By Aberdeenshire Silver descendant Warren Nunn
Reverend Alexander Silver was for about 40 years the spiritual leader of Dunnottar church near Stonehaven in Scotland. He was described as "many-sided and sterling in character".
He was a larger-than-life, quick-witted individual with a keen, hands-on interest in contributing to a community that highly valued Christian endeavour and dedication.
In 1829 he succeeded his older brother John as schoolmaster at Fordoun about 10 miles (16 km) from Dunnottar where he would afterwards see out his days as a pastor.


Portrait  of Reverend Alexander Silver that hangs on the wall of Dunnottar Church. Image courtesy of Sandy MacDonald of Banchory.
He was thrust into the role of schoolmaster when his brother was killed in an unfortunate accident that also took the life of another man.[1] Along with a third individual they were all thrown from a gig which hit a bridge near Glenbervie. As an aside, more than 30 years later Sandy Silver was also involved in a buggy accident.[2]
Sandy Silver was born in 1804 at Mill of Uras (south of Stonehaven) the youngest child of John Silver and Elizabeth Thomson. Research suggests he may have had four siblings: John (1793-1829), Jean (1795-unknown), Elizabeth (1798-1857) and James (1800-1865).
Rev Silver attended Marischal College, Aberdeen, between 1818 and 1822, graduating from the arts faculty filius Joannis agricolae.
Silver surname
The Silver surname has for hundreds of years been prominent throughout Aberdeenshire, particularly in Maryculter and Fetteresso parishes.
It can be difficult to place people in the correct family line because earlier records contained less information. A certain amount of guesswork is needed and it becomes even more complicated by the type of family naming patterns that were practised.[3]
If Rev Silver's family stuck to that protocol then his father John would have been named John after his father before him. It would have been the basis for Rev Silver's eldest brother John having that Christian name.
Confused? You should be because I can't be certain to which family he belonged because the two likely candidates prove hard to track. However I have concluded that Rev Silver's father was born in Fetteresso and was buried in Maryculter. See following footnote for my reasoning.[4]
Silver family connections
Is his parentage that important? Perhaps not, but I'm interested because of my connection to the Silver family in the district given my great grandfather James Silver (1863-1949) grew up a few miles from where Rev Silver was pastoring.
My best guess is that there would have been a family connection in a previous generation but it's unlikely I'll be able to prove it.
Nevertheless, Rev Silver's life is worth exploring and recording for posterity because of the impact he made in a life of public service which went beyond pastoral duties.
Alexander Silver ordained at Dunnottar
On 30 October 1844, the then 40-year-old Rev Silver was introduced to Dunnottar parishoners as their new minister in a ceremony attended by a large number of people despite what was described as unfavourable weather.[5]
It seems likely that Alexander Silver answered a call to pastor at Dunnottar because of the split that occurred within the Church of Scotland. It became known as the Disruption of 1843.
Rev Silver remained loyal to what was at the time known as the Established Church of Scotland, or what nowadays is broadly known as the Presbyterian denomination.
He thereafter gave the rest of his life to serving others. He did not marry, which was a little unusual for the time.
Several years later, Rev Silver is mentioned in connection with the Stonehaven National Security Savings Bank, an institution with which he was to be associated right up until his death.[6]
Educational focus
This became the pattern of his life. Along with his pastoral duties, Rev Silver was also committed to educating the district's children, a contribution that won him praise on more than one front.[7],[8]
His commitment to the community he served was an extension of his pastoral duties but he always held close to his heart the proclamation of the Gospel of Jesus Christ.[9]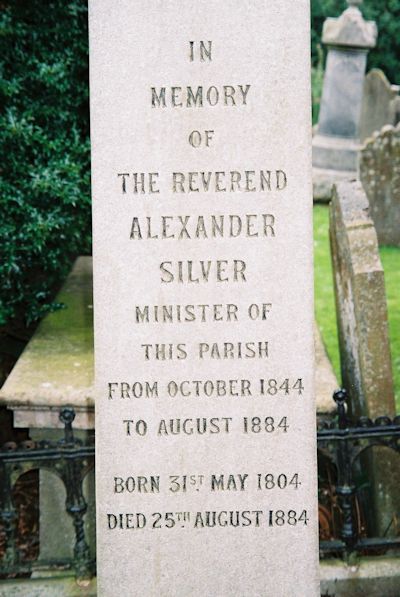 Headstone on Rev Silver's grave at Dunnottar Church near Stonehaven, Scotland. Photo taken September 2004 by Warren Nunn.
One of the measures of a man is any reflection on his life. When Rev John Watt spoke at Dunnottar church about Rev Silver's passing, he painted a vivid picture of a faithful and true Christ-like servant whose life calling it was to serve others. Rev Watt's address is worth reading and is below reproduced.[10]
The description of Rev Silver fits with and fleshes out what the bland public record tells us of his involvement in various organisations both commercial and public.
The Aberdeen Weekly Journal published a tribute which reinforced the high esteem in which the pastor was held.[11]
An extensive library
And there is added insight into his life found in the details of the sale of his possessions that included a library of about 1000 books.[12],[13]
Sandy Silver clearly understood his limitations and the march of time and the impact it was having on his duties as pastor.
He first revealed in 1878 that he needed help and that the parish should look for a successor.[14],[15] He even offered to forgo his stipend to effect the appointment.[16]
This almost brutal self-assessment showed how realistic Rev Silver was about himself and his abilities. He knew his body was giving out on him and so gradually withdrew from the more taxing tasks; the main one being that of pastor. It showed how seriously he took his calling and his determination to put others first in all things and allow the Lord to look after the rest.
Committed to his tasks up to final days
Still he remained as active as possible and, several weeks before his passing, recommitted to his involvement in the parish poorhouse. [17]
However, a few weeks later he suffered a stroke, lingered for 19 days and finally passed into the presence of the Lord he so faithfully served for so long. [18]

For Rev Alexander Silver, he knew the proof of that which he so faithfully preached; that to be "absent from the body was to be present with the Lord". For him, 2 Corinthians 5:8 had become reality.[19]
One thing for certain about Rev Silver is that his love of others and his willingness to give of himself was everlovingly expressed in his will which lists a number of relatives and friends who benefitted from his estate.[20] Again, it is a long and detailed document but worth reading through to gain a further insight to a man who lived out his life in line with his firm convictions that he was a sinner saved by grace.
Various other references to Rev Silver can also be read here.[21]
Fondly remembered long after his passing
More than 20 years after he passed away, Sandy Silver was remembered in an article that appeared in the Dundee Courier of 4 May 1908.[22]
The article "Men of the Mearns, Kincardineshire Wit and Humour" described an encounter at Stonehaven between Rev. Sandy Silver and an Aberdeen lawyer. The account is somewhat confusing and not really amusing and perhaps has much to do with the aforementioned divisions within the church. It describes a mild exchange between two people who were both about the Lord's business, but it underscores that Sandy Silver didn't take himself too seriously.
Later in 1908 there was another reference to Sandy Silver because of a wooden microscope he once owned that was a point of curiosity at a meeting of scientifically-minded men in Aberdeen.[23]
References and notes